Nice Airport Driver
Shuttle between Nice Airport & Cannes
ALL DISTANCES - 24H24 - 7D7
OUR TRANSPORT SERVICES
Book on line
+33 6 36 12 48 24
Book on line
+33 6 36 12 48 24
Nice Airport Driver
Schuttle Cannes
Shuttle with Taxi between Nice Airport and Cannes
Transfer with taxi Nice Airport – Cannes 24/7
---
---
---
Taxi driver between Nice and Cannes airports
---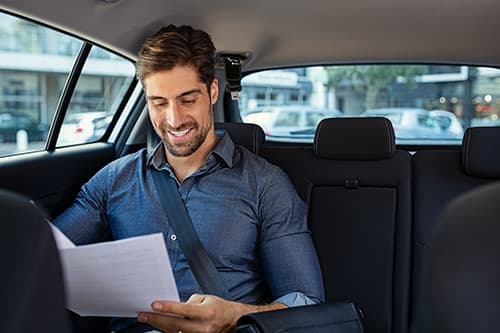 Nice airport transfer offers a pleasant shuttle service with taxi between Nice airport and Cannes. You will be able to benefit from the comfort of vehicles having up to 7 places, equipped if necessary of spacious chests, in order to carry out your transfers in all serenity. In addition, concerned about your well-being, we make available for free during these trips, various services such as unlimited WIFI connection, refreshments, a tablet and chargers for your various devices.
Booking your taxi driver
---
In order that our contact is as easy as possible, we propose you an online booking service. You can also join us by phone at any moment. We will get back to you shortly, to confirm with you the various terms and conditions regarding your booking. On the other hand, wishing to offer you optimal comfort, our taxi drivers are available every day of the year, day or night.
Our Services
---
We assure you all your transfers between Nice Airport on the one hand and Cannes and its region on the other hand :
Hotels : Barrière Le Gray d'Albion, Barrière Le Majestic Cannes, Villa Claudia, InterContinental Carlton Cannes, Hôtel Martinez, Hôtel Splendid, Hôtel Château De La Tour, JW Marriott Cannes, Hotel Abrial Cannes Centre, Hôtel Albert 1er Cannes, etc., etc.
Beaches : Plage du Midi, Plage du Midi, la Bocca, Long Beach, etc.
Entertainment places : Le Vieux Port, Musée de la Castre, Chapelle de la Miséricorde, Abbaye de Lérins, etc.
All streets and avenues : Boulevard Carnot, Avenue Maréchal Juin, Boulevard de la Croisette, Rue de Mimont, Quai-Saint-Pierre, Rue Félix Faure, etc.
Cannes Area : Le Cannet, Mougins, La Roquette-sur-Siagne, Mandelieu-la-Napoule, Vallauris, Mandelieu-la-Napoule, etc.
Customizing your trip
---
If you have a particular request, do not hesitate to let us know, your serenity as well as your well-being are our priority. This is also the reason why we invite you to give us your flight number during your booking. As we are very responsive, we can follow your arrival in real time, and allow your taxi driver to be present at the end of the baggage claim area, by presenting a sign in your name. The coordinates of your taxi driver will also be at your disposal, to deal with any situation that might be uncomfortable.
Comfortable and quality transport
When you arrive at the airport, your taxi driver will take you to the terminal of your choice. In addition, it will tell you the location of your company. Finally, it will ensure that your trip takes place in the best possible conditions. Likewise, our taxi drivers based at Nice Airport are specialized in the transfers from and to airports. Finally, they provide a smooth and safe ride, in regularly revised vehicles.
---